[ Leer en español ]

PAC "Pacific Accreditation Cooperation"

The Pacific Accreditation Cooperation (PAC) is the regional organization that works for the association of Certification Bodies in the Asia-Pacific region. It is formed by 23 full members from 15 countries of that region.

PAC's main objectives are:
To promote the acceptance of conformity certificates issued by accreditation bodies from its member countries.
To support the development of accreditation systems at a regional and international level.

In 2001 ema signed a Multilateral Recognition Agreement (MLA) with PAC for Quality Management Systems. Additionally, in 2004 the MLA for Product and Environmental Management Systems was signed.

In April 2009 ema received Steve Keeling from the Australia-New Zealand Accreditation Body (JAS-ANZ), who came to follow-up on corrective actions which were a result of the evaluation performed in 2007, with the intention of keeping ema's recognitions in the Certification Bodies area. The visit's results and the follow-up were satisfactory for our body.

In June 26, 2014, in the city of Guadalajara, Jalisco, during the First Joint General Assembly APLAC-PAC, were signed with PAC Multilateral Recognition Agreements (MLA) for GHG Verification/Validation Bodies and for FSMS certification bodies.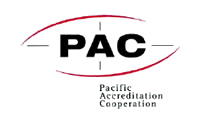 www.apec-pac.org/pac.php
up